SEP 2016 -- HISTORIC "FLYING THE HUMP" C47 FLIGHT UPDATE -- The C47 had an engine failure 1hr 30min out of Bali. The left engine started to smoke, then vibration, then fire. The crew diverted to Surabaya, Indonesia and made a successful emergency landing. Thank you to the support of many TFC members and Thai Aviators, a replacement engine has been purchased and will be on the way to Surabaya this month. As soon as the engine is installed, the trip will continue. The C47 took off from Australia on 16 August to pass through Thailand on its way to Burma, then "Over the Hump" across the Himalayas into China. The aircraft will be on permanent display at the Flying Tiger Museum in Guilin, China. 600 allied aircraft were lost on this hazardous journey during WWII to supply the Flying Tigers inside of China. A veteran crew of aviators will guide the craft from Australia. The journey can be followed on -- www.flyingthehump.com -- TFC instructor Kruu Jira has over 6,000 hours on DC-3s in Thailand, so he will be flying down with Turbo san to meet the C47 during its stop at U-Taphao to refuel. ETA U-Taphao in late September or early October. We have to pump 10 drums of avgas into the wings on the ground U-Taphao, so we call all our TFC friends to fly down with Turbo and Kruu Jira to help us pump and take photos with the C47 -- email Turbo
24 SEP 2016 -- FUG BIN FREE -- The winners of "Fug Bin Free" (why do you want to fly) essay competition at AIT Rajamangala University will come to fly at TFC -- www.thaiflyingclub.com/fugbinfree.html
10 NOV - 15 DEC 2016 -- BANG PHRA WILL CLOSED AGAIN -- Bang Phra may be closed these dates for the annual Agricultural Fair at the Rajamangala University Campus. For more info -- email Khun Tui -- info@thaiflyingclub.com
03-11 DEC 2016 -- FERNANDO WINTER TOUR -- Join TFC member Fernando on a Winter Tour of Thailand. He likes to fly up North and all the great places in Thailand at a very relaxed pace over the Thai Holiday. If you have any questions about Navigation Apps for your iPad, you can ask him, because he has all of them. Email TFC if you want to join the Winter Tour -- info@thaiflyinclub.com
02-03 DEC 2016 -- CHIANG KHAM FLY IN -- Admiral Tanakrit is once again organizing his fantastic Children's Day Fly-In to the North. If you have never been up here, then you have no idea how special it is. Last year, we had over 6,000 spectators and delicious Northern Thai cuisine and everybody stayed all day for airplane rides and free fuel. It is a beautiful airstrip up in Chiang Kham with a very interesting history. If you want to join -- info@thaiflyingclub.com
25-26 JUN 2016 -- PRACHUAP KHIRI-KHAN AIR RALLY -- A great success. 604 Squadron was in full force for the weekend at Prachuap Khiri Khan, certainly one of the most beautiful airstrips in Thailand. RASAT did an outstanding job of welcoming the visiting aircraft and hosting the event to FAI standards. Prachuap Airforce Base is the home base of the U-23 Peacemaker and is surrounded by limestone karsts and beautiful golden Thai temples. Aircraft flew in from Wings Over Asia in Singapore, from Malaysia, Ed and Mike came in from Nok (Chiangmai) and Fernando and Tom flew in from Bang Phra.
JUN 2016 -- YASOTHORN'S "LEONG NOK THA AIRPORT OPEN AGAIN -- Khun Gik has shared great news with us. He is opening a flying school in the retired old airstrip and is currently fixing up all sorts of airplanes to take to his flying school. His Flying Club will be called "FRIENDS FLYING CLUB & TRAINING" and he has 2x C172, 2x Jabiru, 1x Sonex, 1x Quicksilver, and a twin coming from CATC. He is using the A Team for his maintenance and he will be offering UPL and PPL (60 hour) flying courses. For more information -- LEONG NOK THA AIRPORT
11 SEP 2016 -- SINGAPORE FLYING CLUB MANAGER LEE BUCK CHOON -- Sunday, Pizza Night, 6pm at EAA EASTERN FLYING CLUB -- We welcomed the Manager of the Republic of Singapore Flying Club who gave a very interesting history and current affairs of the club in Singapore. Lee also enjoyed the best pizza in Thailand. Thanks to Lee from Republic of Singapore Flying Club and EAA Thailand for hosting the evening on flying in Singapore -- www.eaathai.com
29 JUL 2016 -- BANG PHRA AIRPORT NOW OPEN AGAIN -- We are open again (as of 29 Jul 2016). We were closed on 27 Jun, because we were trying to get the 2 year permit for the airfield (instead of renewing month by month). However, the CAAT has informed us that they need more documents and pictures, so the airport was closed for a month. Now we are open again.
JUN 2016 -- TFC HERO KHUN NIN -- Khun Nin has done it again. He has just completed painting the roof to the TFC Clubhouse for the second time. This prevents the rust and corrosion of the roof, so the roof lasts longer and we don't have to replace it. This is preventative maintenance just like mechanics do on aircraft. Congratulations TFC for this forward thinking and keeping the clubhouse in good shape.
JUN 2016 -- KRUU JIRA CELEBRATES 83RD BIRTHDAY -- The TFC staff were on full alert to celebrate Kruu Jira's 83rd Birthday recently. There was a birthday cake and a delicious seafood cookout prepared by Khun Tui. There are not many flying clubs in the world with both instructors in their 80's, but here at TFC you can come and fly with both of them.
JUN 2016 -- TURBO SAN FIRST SOLO -- It was a fantastic landing and the entire club staff and active members were on hand to celebrate as Turbo san soloed the C172 with a perfect greaser landing after 2 and half years of training. Kruu Sirapol was very proud to have Turbo solo, and now he can accelerate his training so he can fly his recently purchased C150. Congratulations Turbo san -- Watch Turbo San first solo and the "smoothest" landing.
JUN 2016 -- CHEROKEE 140 HS-ATJ BACK IN THE AIR -- It was truly unbelievable. After almost 15 years of being grounded, the club Cherokee 140 took off on a test flight with Kruu Sirapol and 2 mechanics with full fuel to make a test flight. This has been an incredible journey, but the TFC team and mechanics have done it and gotten this plane back in the air. Congratulations to everyone for keeping this plane alive.
JUN 2016 -- A TEAM NUNG BECOMES A MONK -- We have had no shortage of celebrations this month, and our very own A Team sent Khun Nung to Mahasalakam to become a monk. The team was in full force for the celebration, and we look forward to Nung's return with his renewed spirit.
COMING SOON 2016 -- CAPTAIN ED TRIPLE 3,000 HOUR PARTY -- Enthusiastic Aviator Ed is all set to cross the 3,000 hour threshold. He enthusiastically announced to us in Prachuap Khiri Khan that he will be hosting 3 parties as soon as this happens -- In Chiangmai, In Bangkok, and In Phuket -- the three zones in which Ed hangs out. All keen aviators are invited to any and all of the parties. As soon as we know the date, we will let you know. Congratulations to Ed.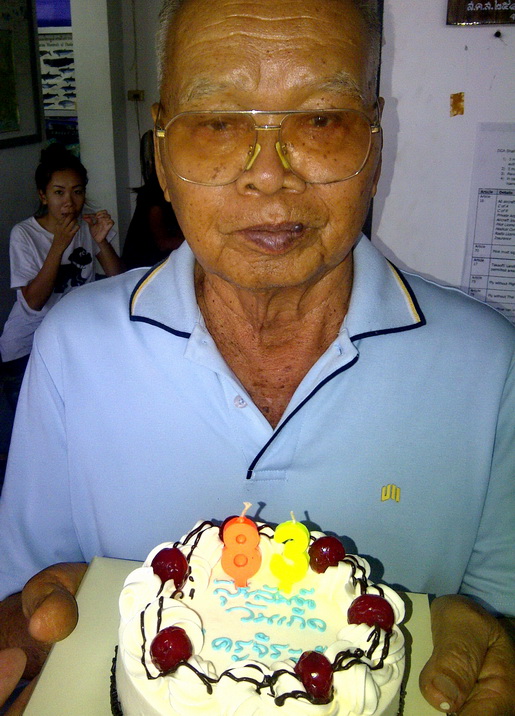 Kruu Jira turns 83 -- Turbo san First Solo Party -- Captain Worawoot "Unplugged"

TFC Team gets HS-ATJ back in the air after 15 years -- A Team Nung becomes a Monk
31 JUL 2016 -- NEW C150 WILL JOIN TFC FLEET -- The very good news is that TFC has accepted Turbo san's beautiful C150 onto the club fleet. This aircraft will be for cross-country use and for FAA IPC and BFR checks. FAA pilots all over Asia will be able to come and fly our FAA CFI members to keep current with their BFR and Instrument Currency according to FAA FAR "14 CFR § 61.57(d)—Instrument Proficiency Check." This also means that we can get our Thai instructor training for his CFI in the USA to come and reopen the TFC Groundschool and Flying School which have been closed for the past 2 years. Turbo san bought this C150 in beautifully restored condition from Jeff Nash in Udon. It has a working VOR and Garmin GPS for use as an ADF. There is a beautiful intercom and radios are 100%. This plane will not be for training touch and go's, but is perfect for cross-country. It will be 700 Baht more expensive that the other C150 and all pilots must be prior approved by the club and Turbo san. We expect the plane to be ready to fly in 3 months. The idea was proposed on 10 Jun and accepted on 31 Jul by Captain Worawoot. Now we will have the confirmation meeting with W, T, and T.
06 MAR 2016 -- KHO JAN AIRPORT OPEN AGAIN -- EAA Thailand organized a fly-in to visit Khun Yutana at his newly refurbished Kho Jan Airstrip. Now the airstrip is authorized for HS Aircraft to land. 4 Aircraft flew in on Saturday to honor Khun Yutana and were welcomed with a delicious lunch.
03 FEB 2016 -- BANG PHRA AIRPORT OPEN AGAIN -- Thai Flying Club is open again. Finally. Bang Phra has been closed for almost a month while the club was sorting out the airport permit with the CAAT (which used to be the DCA). So now everyone can come and fly again. Khun Toon says that now TFC will apply for a 2 year operating permit like Khun Alex has done for Pattaya Airpark.
SEP 2015 -- TFC "MINI MAPS" NOW AVAILABE -- It is very difficult to find aviation maps in Thailand, so now at TFC and EAA HQ we have for sale the TFC MINI MAPS. These are A4 size or double A4 size laminated maps to scale with all the current radio frequencies, airports, controlled airspace and other information for you to easily navigate around the area. If you are interested in a TFC Mini Map, you can find at the AERO SHOP in Bangkok or in the TFC club office or at Eastern EAA HQ airport.
MOBILE AIRCRAFT MAINTENANCE -- THE "A TEAM" -- For those of you in Thailand with aircraft that need maintenance, and perhaps you do not have on the field, Khun Tui and his sons have formed the "A TEAM." Specializing in Piston Aircraft, the "A Team" can help you. For years, the A Team has kept the Damri Squadron on top form and worked on many types of aircraft in the Kingdom. They can do all the documentation and maintenance work at a very reasonable price -- MEET THE A TEAM
28 DEC 2015 -- TFC FLYING SCHOOL STATUS -- Exactly one year and six months ago today, The TFC Office Staff decided not to buy a used C150 (HS-LAX) to keep the flying school open. They decided to repair the 3 club aircraft, and mechanic Num was very confident about the TFC Fleet. He said that on NOV 2014 (after 5 months) the 3 aircraft would be back in the air. We are sure that the TFC staff have been working hard, but it has now been over one and a half years, so how much longer will this process take. The TFC Groundschool and flying school has been closed for over one and a half years. The DCA has inspected the aircraft and wrote out a squawk list of snags that need to be addressed before the aircraft can fly. In June 2014, the club had decided not to buy the C150 (HS-LAX) that would have been on the TFC fleet status in 3 months and available for flight training. As soon as we hear some progress on the flight training, we will let you know.
05 FEB 2105 -- EAA THAILAND RECEIVES OFFICIAL EAA CHAPTER #1566 -- It is now official. EAA USA has recognized and awarded EAA THAILAND as Chapter #1566 to represent EAA "Spirit of Aviation" in Thailand. The Headquarters for EAA THAILAND is at Eastern Airport, so come visit and enjoy the best breakfast or pizza at any airport in Thailand on every SUNDAY. Thank you to all EAA Members in Thailand that supported and sponsored the founding of EAA Chapter #1566 -- www.eaathai.com
SEP 2014 -- HI-TECH WEATHER REPORTING FOR SMALL AIRPORTS IN THAILAND -- Enthusiastic aviator Ed has informed us that now NOK airfield and PHUKET AIRPARK have live WEATHERLINK updates online and ready to view immediately. We also hear that Jim is obtaining the same system to install at EASTERN airfield. This is amazing technology and a great safety feature for General Aviation in Thailand. You can click the link and see current WIND, RAIN, TEMP information as well as other helpful information for flying, and it is updated every 30 seconds 24 hours a day. Have a look and get as many other airfields to set this system up too.
PHUKET AIRPARK -- http://www.weatherlink.com/user/phuketairpark/index.php?view=summary&headers=1
NOK AIRPORT -- http://www.weatherlink.com/user/nokairfield/index.php?view=summary&headers=1