| | |
| --- | --- |
| Email RS FILM -- Jantima "Amy" Liawsirikun (Producer), Aree Kanjanarangsan (PR Manager), Tana Sinives (PR Officer), Pornruedee Piyakhun (International Business Development Manager), Hemvadee "Helen" Onkvisit (Marketing), Komsan Chetchotisak (International Business Asst. Manager) | Write to RS FILM -- Mr. Surachai Chetchotisak, RS FILM, 431/1 Soi Ladphrao 15, Ladphrao Road, Chomphon, Jatujark, Bangkok, Thailand 10900. (He is the owner). Fax (66) 2511-2324. Another Fax (66)2938-6917. Phone (66)2938-6915 (press 101) / 938-6864 /513-2316 / 512-0528. If no one speaks English, then call Alex -- (66)97772400. |
FINAL RELEASE DATE
รักสยามเท่าฟ้า "FIRST FLIGHT" will premier in Thailand on 31 JANUARY 2008
13 Dec 2007 -- NEW RELEASE DATE
The film was first scheduled to show in November 2007, but it was delayed because an airliner crashed in Phuket. Then the film was scheduled to show on 27 December 2007. Now, the new date for releasing "Rak Siam Tao Fah" is on 31 January 2008 -- and this time, it looks like it might be for real. There are now posters up in the cinemas and there was a press briefing with many magazines and newspapers (yesterday). Hang in there everybody, and we hope to finally get First Flight onto the screen!
06 Nov 2007 -- NEW THAI NAME FOR FIRST FLIGHT --
รักสยามเท่าฟ้า

"First Flight" has a new name for the Thai market -- รักสยามเท่าฟ้า (Rak Siam Tao Fah) -- which means "Love Siam as much as the Sky." The English name will stay the same -- "First Flight." The planned release for the movie is on 27 Dec 2007. The AVANT PR CREW is in production right now setting up the marketing for this film. Watch out on -- www.firstflightthemovie.com
09 May 2007 -- New Posters for CANNES
Just in time for Cannes Film Festival, FIRST FLIGHT has new posters. Congratulations to RS and AVANT production teams for making the dream come true and for finishing First Flight. Last week, we sat in a screening room with the Director, Khun Thanit, and we saw First Flight on the large screen. The thing that struck us the most was the sound. The music is beautiful and powerful. It captures the mood and feeling of the film very well. The aerials were stunning and showed the beauty of Thailand from the air, and the computer graphic images of the aircraft in the aerials were perfect. The film left us silent... reflecting on the efforts of so many people working together for so long for this common goal. It reminded us of what Khun Sart once said about this film -- "all this film needs is love, and it will fly." Khun Sart was right.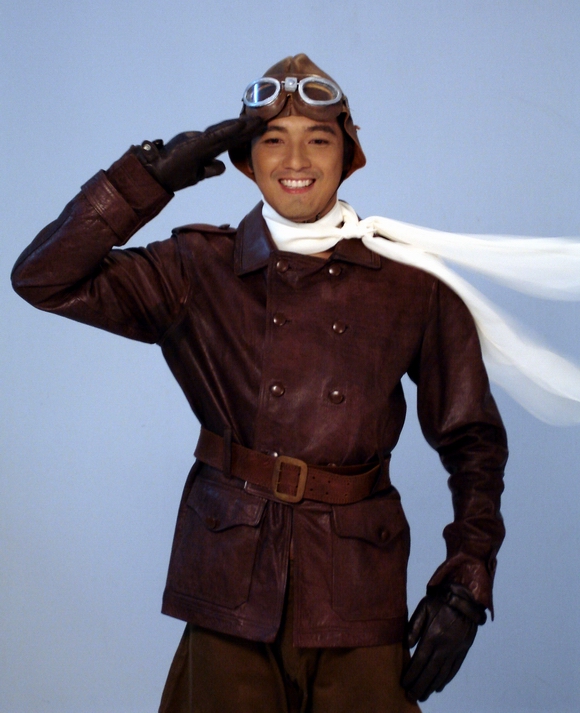 26 Apr 2007 -- P&N STUDIO
Today certain members of First Flight came to the P&N Studio to have their pictures taken for the POSTER for First Flight. There are several layouts for the poster design, and each actor had about 60 photographs taken against a white background. These images are instantly viewed and analyzed on an Apple computer. The images can be lifted and placed together on a poster with all the other actors, so that can be used in many ways. Congratulations on getting this important step completed before CANNES FILM FESTIVAL. Khun Mee and Khun House are working round the clock on the subtitles and text and dialogue. We know, because the call us every once at 11pm or midnight to check something. Well done.
FIRST FLIGHT FLASHBACK
Toy Tep brought a scrap book of photos to the recording studio to share with everyone, so this is a good chance for a flashback of First Flight as we get ready to see the real film screen at Cannes in May 2007.
10 Apr 2007 -- RECORDING SOUND IN KANTANA STUDIO
Today was like a First Flight Reunion. We saw Luang Kaj, Toy Tep, Dam Geung, Assada, Malai, Pierre -- all in the Kantana Recording Studio recording over 30% of their scenes by lip-sync in a very sophisticated lab. We had our scripts in front of us, and then we could watch ourselves on the monitor in the film. We would practice our lines and get the feeling of the moment in the film, and then read our lines to match our mouths. You can never
match it perfectly, but this is where the computer and the technician come in, and it is pure magic to watch the computer fit the words perfectly into your mouth.
Also, we had on hand our French Expert -- the professional actor in residence -- Monsieur
Jean Jacques Velicitat. Jean Jacques is a master, and he captured the mood perfectly as he filled in the lines for the Belgian Aviator. Then Jean Jacques got a hold of Luang Kaj and coached h
im into near-perfect linguistic bliss. Actually, Luang Kaj was getting a little frustrated by the French, so we poured 4 Singha beers into him, and after 6 hours and a lot of computer mixing, he started to speak French beautifully. If anyone needs an expert French (fluent in English) actor in Bangkok, then contact Jean Jacques on mobile 0860547065 -- http://jj.velicitat.free.fr -- Bon courage First Flight.

FIRST FLIGHT REUNION recording over lip-sync in the Kantana Studio (Asada, Dam Geun, Pierre, Toy Tep, Malai, Mee, and House).
21 Mar 2007 -- PRODUCER OUTLINES REMAINING TASKS
Today Khun Amy (the Producer of First Flight) outlined the few remaining tasks for First Flight. She did confirm that First Flight will screen at Cannes. We asked her if she was sure, and she said "Yes, 100%." That sounds good. She said that the big problem is the dialogue. Somehow, 30% of the dialogue is missing, so early next month, we will have to meet in the studio and record over the dialogue for the needed sections of the film.
15 Mar 2007 -- FIRST FLIGHT SUBMITTED TO CANNES FILM FESTIVAL
Official Selection - Films in Competition, Out of Competition, un Certain Regard
Online APPLICATION FORM 2007.
We have received the registration of your film.


Your Identification Number is: 60B4048


IMPORTANT: you must print this page, put in the package when sending your film to our office (keep a copy for yourself) :
Festival de Cannes
Film Department
3, rue Amélie
75007 Paris - France
Please do not send any additional material (photos, bios, press kits, etc.) with your film. Video cassettes and DVD must be sent by registered mail, with "For cultural use only" and "Without commercial value" marked on the envelope. Should you choose to send a video cassette through an express courier service (like Fedex, DHL, etc.), the cost of custom duties and taxes must be included in the transportation cost paid by you; if that is not the case the Festival de Cannes will refuse the package. The Film Department will contact you if your film is selected. If you can't print this page, just write down the Identification Number of your film and include it in the package with your film.
Production Company : RS FILM
Title : "RAK BIN"
Still due : 0 €
15 Mar 2007 -- FIRST FLIGHT MARKET SCREENING AT CANNES FILM FESTIVAL
Hemvadee Onkvisit (Helen) has informed us that the screenings of First Flight will be:
18may2007 (16:00 hrs) -- LERINS-2
23may2007 (17:30 hrs) -- PALAIS-H
Since today was the deadline for submitting the film First Flight to Cannes, we checked with RS and discovered that we still needed to submit the film. So we submitted it online to Cannes. The "working copy" of the film must be posted on 20mar2007. We have spoken to Khun Ravit, and he says there is some color problem with the film. We suggested that maybe that isn't too serious, because we should just finish the film. The more different colors, the better, because it has taken about 5 years, so let's just finish it and send it to Cannes. The Subtitles have been completed by Khun Pak at Siamtext, and the French has been completed. We understand the music has been completed, but we will have to go to Bangkok this week and find out what other surprises are in store for First Flight. Also, we have direct news from Khun Helen about the above screening dates: Thanks for your email. I forgot to mention that these are the market screenings, not the festival program. So, for these screenings, mostly people going are the buyers, and of course our sales team which are me and Polly, as well our Internaional Co-Agent from Hong Kong. I don't know yet if there is any other RS Staffs able to join us there. We have to discuss with the production team how much it's possible. For my personal idea to promote the movie, we can arrange some small event at our booth (or in front of the theatre if possible) before the screening. Anyway, I need to do my homework first regarding the budget to propose that to Polly and Amy. What would you think about that, and could you give me roughly the number of people to join from your side? Maybe we can arrange something out off what we have in hand now. Anyway, to answer your questions, we dress casual, or business attire. The Black tie is only to dress up for the Grand Lumiere (Red Carpet) for selected movies in the festival theatres. : ) And the LERINS 2 (67 seats available) provides better sound and is the new venue for the market this year. It's located on the second floor in Riviera Area of Marche du Film. I hope this information can give you some picture of the Marche du Film which is only a market part of Cannes Film Festival. Feel free to contact me for any of your comments. Best Regards, Helen -- Hemvadee@rs.co.th
07 Mar 2007 -- ALLIANCE FRANCAISE TRANSLATION TEAM
The Film First Flight is in Thai and French with English subtitles. This has been a linguistic challenge to everyone involved. We have had several Directors, several scripts, different endings, and in the process, we misplaces some of the French scripts. With CANNES FILM FESTIVAL fast approaching, in our hour of need, we turned to ALLIANCE FRANCAISE BANGKOK. We walked in and found the first French-speaking person we could. He then pointed us to several other French-speaking people, until we ended up in the Bibliotheque. This is where our First Flight French Translation Team was assembled --

Fabien Reymondon, Slinthorn Triamsasithorn (Som), Ornkamon Saraya (Ann), Isabelle Duchet, Tom.

With our combined French-Thai-English language skills, we managed to capture the pre-recorded French dialogue that was without a script, to construct missing dialogue for several scenes, to correct spelling and grammar, and to put it all together just in time for these critical parts to be inserted into the film next week. WE WOULD LIKE TO THANK THE "ALLIANCE FRANCAISE" FIRST FLIGHT FRENCH TRANSLATION TEAM FOR ALL THEIR HELP..... Alliance Francaise Geng Mak!!.....

In addition, Mr. Jean Charconnet (Attache de cooperation pour le Francais) took a very keen interest when he heard that "First Flight" will be premiering at Cannes Film Festival this May, and he would like to arrange a special screening of the film at the French Embassy or Alliance Francaise after the film returns from Cannes. He was very excited to see our team in action, because he feels that "First Flight" will be a great project to promote friendship and cross-cultural learning between Thailand and France. jean.charconnet@diplomatic.fouv.fr
CANNES FILM FESTIVAL
All films to be submitted for the Official Selection must be entered by
March 15th, 2007. An entry form must be filled out on our website
www.festival-cannes.com prior to this date. A print, videocassette or DVD of the films submitted for selection must reach the Festival by
March 20

th, 2007.
14 Feb 2007 -- FIRST FLIGHT IS GOING TO CANNES FILM FESTIVAL

We have been told by the Jantima Liawsirikun, the Producer of First Flight, that the movie is going to Cannes Film Festival. The computer graphics are finished. Right now, Tom is transcribing the French dialogue into text. There is a translator for Warner Brothers Films working on the English Subtitles. These texts are due in the end of February. It is mid March when the sound will be dubbed onto the film.
30 Nov 2006 -- AVANTI HEAD OFFICE (RS FILM)

Today we reviewed CG aerials of all 5 rolls with Director Tomy, Producer Amy, Coordinator Bum, Mee, CG commander Ravit, and Bush Pilot Tom. It was a full 4 hours of looking at 4 different computer screens. This was the first time we had seen the Air Battle scene. It looked magnificent. It was truly impressive. The color is what is most captivating. Each scene almost looks like a classic postcard or poster that you would want to hang on your wall. It is not black and white, and it is not sepia, but the color has vividness, and a timeless emotion to it. You feel closer to it, and we were all very impressed. An outstanding job by the 20 man CG team at Imagimax and a very special recognition to Khun Rit and Khun Terd for creating a very exciting air battle scene that will blow the Flyboys right out of the air! We start sound recording and mixing in mid-December until end of January. The music will be composed at the same time. First Flight is going to Cannes 2007. Also, very exciting developments with Red Bull about the release premier in Thailand in 2007. "Patience is the fastest way."
12 Nov 2006 -- CG TEAM at AIRSHOW

The Imagimax CG Team of Terd, Jo, Ga came to the Sun & Fun airshow sponsored by Tango Squadron. They met with Group Captain Veerayudth Didyasarin and many other aviators. They watched Kruu Piya do aerobatic displays in the Eagle and they flew with Khun Tom in the Wilga. Terd was at the controls. They also watched the R/C aircraft display. The main thing they were learning is how the airplane turns and feels when it is in the air. None of these young computer experts had ever flown before, so it was their very own "First Flight." Also, this past Friday, the movie Fly Boys premiered in Thailand. Good film, but First Flight will be better.
06 Nov 2006 -- IMAGIMAX CG CHECK

There was a meeting today at Imagimax. After the meeting, we looked at the aerial CG shots for two hours. There were about 10 people working on the CG at their different computers. Some of the shots are brilliant, and some of the shots don't have a clear understanding of the dynamics of the airplane in the air. The best solution seems to be to invite the CG team to come flying at the Airshow next weekend. The aerial images flying over the river low level with CG Breguet-14 aircraft superimposed is very beautiful. The most important thing is that the flow and position of the CG aircraft look accurate. This is the challenge as the CG team has to work very hard this month to finish the final roll#5.
10 Oct 2006 -- AVANTI STUDIO

Today, there was a meeting with Director Tomy, Production Coordinator Bum, and Producer Amy and Ravit, Rit & Terd from CG team. It was decided that the air battle over France will be mostly conducted in the air amidst cloud. This is a good decision. It will save a lot of time in CG, and the clouds are real. We have a revised status on the film. There are actually 5 rolls of film. The CG for rolls 1 & 2 will be completed 16 Oct 2006. The CG for roll 3 will be completed end of Oct 2006. CG for roll 4 & 5 will be completed in the end of Nov 2006. The biggest job will be roll 5. That's the latest news.
03 Oct 2006 -- IMAGIMAX TEAM

Imagimax now has 24 people working on Computer Graphics for the movie "First Flight." Previously, there were only 3-4 people. Thanks to Khun Guide, we have a photo of the entire Imagimax CG team. The movie is in the hands of these very talented computer experts. We all know that the aerial scenes and the computer graphics are the essential element to make this a great film, so we want to show you exactly who all these people are. This is a photo of the Imagimax team in command of "First Flight" before the aerial battle against "Flyboys" begins. First Flight started before Khun Ravit met his wife, Tae. Now, Tae is 2 months pregnant with their second child. The race is on to see who will be ready first: First Flight or Ravit's future daughter.
29 Sep 2006 -- DIRECTOR'S VISION

We spoke to our Director, Khun Tomy, about his aspirations for the film. This is the third film he has directed. He is very confident about the film, and we have seen him come up with some fantastic ideas, but at the same time, he
is always open to thoughts and suggestions. He is looking forward to creating a film that shares this proud romantic period in Siamese history with young children and adults. He wants to make a film that will "inspire people." Khun Terd has now joined the CG team, and he was at the meeting. The film is in two rolls, and here are the latest facts. On 16 October, the CG images will be completed for the first roll. By the end of November, the CG images will be completed for the second roll. Right now, the CG team is building the CG model for the French town Air Battle scene. It looks very good. The funny thing is that just like two young brothers who are a little competitive, now the First Flight team is comparing their CG work to the movie "Fly Boys" and trying to make it look better. Who ever said that a little competition wasn't good. Now, we have a real battle. This is starting to get fun.
30 Aug 2006 -- SURPRISE
Today "First Flight" learned what happens if you advertise your World War I flying film at Cannes for three years in a row, but don't actually finish the film. Today, we all saw the trailer for the upcoming American World War I film called "FLYBOYS" -- www.flyboysthemovie.com -- and it was very funny. Everyone in the room sat there with their mouths open looking at a film that was almost exactly the same as First Flight (except with American Heroes flying in France instead of Thai Aviators). Instead of a monk blessing the plane, there were Christian priests. Instead of 8 Thai Aviators, there were 8 Americans. The planes were similar, the mood was similar, there was a pretty girl too. The films are almost the same, except the Americans did it in time for the opening of Suvarnabhumi Airport, and we did not. The status on First Flight now is that we are 30% finished with the Computer Graphic Aerials. The next 30% is in process. 60% still lies ahead. It will take 3 months to finis
h the CG Aerials. It will take 2 months to complete the sound and music for the film. It will then take 3 months to market the film. These are the facts as of today. However, we would like to congratulate our competitors and fellow aviators FLYBOYS for an excellent performance. Their webpage is outstanding. The film trailer is full of the passion and the drama of flying, and the film looks like everything that First Flight had hoped to be. Perhaps, if First Flight is someday finished, then we can follow in their footsteps, because FLYBOYS looks truly destined to be a great flying film. Chok dee FLYBOYS and thank you for showing us how it should be done.
23 Aug 2006 -- Update

We had a chance to view the computer graphic aerials at Imagimax. The ones that are completed look very nice. Khun Ravit, Khun Guide and Khun Rit are working very hard and doing a very good job. It is difficult to comprehend what a very large task this is and that it takes a long time. It is estimated that they have now completed 1/3 of all the CG aerials they have to do. This is a lot of work. The most important thing is that they are working hard on this every day, and they are making progress. Also, there has been no visible promotion of the film yet. It is safe to conclude that although the film is progressing well, it will not be finished in time for the opening of the new airport. The target now appears to be opening at the end of this year. We will know more on Friday, and we will let you know.
07 Jul 2006 -- Meeting at Imagimax

This was a special day! We sat for over 5 hours and looked at the Computer Graphic Aerials that Imagimax has been working on, and then we saw the film with the Computer Graphic scenes in the film. It is looking great, and everyone is working very hard for a 28 September deadline!!! There is now a meeting every two weeks to review the progress of the film. We also caught one slight typing error in the film, because it said that the First Flight into Siam was in January 2453 -- but it was actually in January 2454 (1911) !!! -- so it was great to catch that small but important detail. You can see the meeting in action when everyone was very animated practicing their positions for The Royal Order. It was a precious moment indeed.
23 Jun 2006 -- Meeting at Imagimax
Today, we saw the progress of Khun Ravit, Khun Rit, Khun Guide and the rest of the IMAGIMAX team at their new office near Silom. Khun Amy (in charge) was there. Khun Tom (producer) was there. Khun Berm (post production coordinator) was there. The War scene aerials look amazing. The rope and the blue man have been removed from the Buffalo scenes. They look good. The air show aerials look very nice. They have to work on a few scenes where the plane does a low pass at the air show and when the plane does a 180 degree turn. Otherwise, the movie is looking great. It is getting more condensed and more dramatic. There are still too many cameo-shots with music in the introduction, but everyone is aware of this, and the progress really has been good. The ending scene, Khun Tom (producer) is working on to make stronger and more dramatic. The airport is due to open in SEPTEMBER 2006. Everyone is working hard for this deadline !!!
21 Jun 2006 -- Meeting at RS
Today, we had a meeting at RS with 11 people there!!! Khun Tanit was there, Khun Amy, Khun House, Khun Ton, Khun Ravit. It was a big meeting. We reviewed the entire film. It is looking good. We listened to the music scores being prepared for the film. They sound good. The CG Aerials are not in yet, but the content and flow of the film is very good now. It is still a little slow in the beginning, but that is going to be sorted out. Also, there is now a new idea from Khun Ton to get a long shot of the coconut palm scene for the ending and then to use more aerials for the ending with the film credits. We have so many beautiful aerials, so this would be a great way to end the film... after the coconut palm scene.
18 May 2006 -- "RS will announce release date of First Flight in June"
Khun Pornruedee Piyakhun (from International Business Department of RS Film) has informed us that Khun Pornchai will announce the release date for FIRST FLIGHT next month in June 2006. pornruedee@rs.co.th
03 May 2006 -- SUVARNABHUMI PROJECT NEARS COMPLETION
Airport to open in August 'at latest' - AMORNRAT MAHITTHIROOK: The much-delayed Suvarnabhumi airport will open in August at the latest, caretaker Deputy Prime Minister Chidchai Wannasathit said yesterday. ''The government will announce the exact opening date in June,'' he said, after inspecting the project in Samut Prakan's Bang Phli district and chairing the airport's development committee. Doubts were cast on the planned July opening of the airport by transport officials, including caretaker Deputy Transport Minister Chainant Charoensiri, and airline representatives. Pol Gen Chidchai said construction work was almost complete, as were systems tests. ''Construction has been over 99% completed and the delayed part is the outsourcing, for example, of security, cleaning and ground services. The government will have all construction work finished in May,'' he said. Readiness reports of the new Bangkok airport will be submitted to the International Civil Aviation Organisation (Icao) on May 11. Icao should reach its conclusion on airport readiness within two months and then the Aviation Department will issue an airport operation licence. Although damaged roofing fabrics and terrazzo floors have yet to be repaired, Pol Gen Chidchai said the issues were trivial and what mattered was aviation safety. Caretaker Transport Minister Pongsak Raktapongpaisal said the opening depended on the readiness of runways, aeronautical radio systems, conveyors and check-in systems, not on whether floors still had cracks. He admitted there were more than 100 cracks on terrazzo floors, but said the areas could be partitioned off for repairs while the airport operates.
NEWS FLASH -- 28 Apr 2006 -- Meeting today at RS Film Avanti Studio with Ek, Bum, Tom, Mee, House, and Ravit. The film will not be release in September, because the New Airport won't be open and the film won't be finished. They said it should be ready in 3 months... Let's see, that is END of JULY. This sure is confusing. Ek is doing something with editing, not sure what though, and the most progress is seen with Khun Ravit and Imagimax. They have completed a great CG Aerial scene of the battle in France which comprises real aerials, CG modeling of the Nieuport Aircraft, and the Actor Sonram inserted into the aircraft. You can even see the aileron on the CG Aircraft moving. It looks good.
NEWS FLASH -- 05 Apr 2006 --

Today RS film and many other film distribution companies in Thailand were invited to present their films to executives from EGV and MAJOR film houses in Thailand. One of the film trailers presented for release this year was FIRST FLIGHT. We also learned that the film has been removed from Khun Thanit and is now in the hands of RS Production house Avanti. There is a new Director who will finish the film with the footage that is available.
NEWS FLASH -- 20 Mar 2006 -- Our friends at RS now tell us that September may be the scheduled premier for "First Flight." We cannot confirm this, BUT we do know that they want to schedule the release of this movie for the opening of the New Bangkok Airport and this webpage has all the news on the progress and official opening of Suvarnabhumi Airport in celebration of the 60th anniversary celebration of H.M. The King's coronation.
http://www.airport-technology.com/projects/bangkok/
NEWS FLASH -- 13 Mar 2006 -- Khun Ravit said that the edited background aerial sequence will be completed by Khun Thanit's team this coming Wednesday, and then Ravit and the Imagimax team can start putting the aircraft into the aerial sequence!!!! This is what we have been waiting for. Thank you Khun Thanit.
NEWS FLASH -- 12 Feb 2006 -- The Bangkok Film Festival held at the Paragon Center in Siam was a great success. RS Film presented the films to be released this year -- including FIRST FLIGHT. We met several buyers of foreign films who were very interested in First Flight.
NEWS FLASH -- 26 Jan 2006 -- Today RS is reshooting some face scenes with Sonram (the lead young pilot character in the film) to insert into the computer graphics. The computer graphics have 3 stages: 3D modeling, Image Rendering, Overlay for the Composite Shot. Right now, Imagimax is completing the Image Rendering. This is where each aircraft in the CG scene is touched up to look realistic in the battle scenes against the real sky footage that was shot. As soon as we see some of the CG footage (post rendition), then we will put it here to share with you.
NEWS FLASH -- 05 Nov 2005 -- God must love First Flight, because today the sky was clear, the clouds were perfect, and we finished the aerials for First Flight. Khun Thanit was at the airport at 8am with Khun Piya and the entire crew from RS Film. The clouds were at only 2,000 feet, so we could climb on top of them and the contrast between white puffy clouds and dark black storm clouds was perfect for the air battle scenes that take place over France in World War I. Khun Ravit and the team at Imagimax now have everything they need to make the beautiful air battle scenes that will make this a great movie. We flew the side shots with the Wilga and the front shots with the 206, and they look beautiful. Khun Piya was brave as usual, and he only got sick after his third hop. Khun Ravit and Khun Guide came up in the Wilga, so they could get the feel of flying and see what it is like, so they will have the "hands on feeling" when creating the Computer Graphic Dog Fight scenes. Khun House and the rest of the staff were
shooting "Behind the scenes" with a DVD camera to show this historic work behind the making of the first Thai movie with real aerials. One of the highlights of the day, was that we were able to get Khun Thanit to sit in the plane and prepare him for his very own "First Flight." We made great progress today. Thank you to everyone at RS FILM, IMAGIMAX and Pattaya Airpark for their great enthusiasm and participation on this special day. Addendum: We received a congratulations message late this evening from Khun Prawatsart P. K. N. Ayutthaya -- "Excellent News!... keep the candle lit... and make it happen. First Flight will take off if everyone just believes and has faith... thank you for sharing the progress." Khun Sart was the second Producer to work on First Flight. He replaced Khun Poo, and he was the person responsible for getting the poster changed from "A buffalo and a chicken" to the good one we have now. Khun Sart was also on hand when we put in the 6 minutes of historic black and white footage from the Thai National Archives with real images of early aviation in Siam.
NEWS FLASH -- 02 Nov 2005 -- Charlie Reff has sent us the link for the CANNES FILM FESTIVAL www.festival-cannes.fr/index.php?langue=6002 and there is a section that tells you how to submit a film. He also advised us to check into Toronto, Berlin, Venice, Tokyo, Sundance... those are all the big festivals, all have international sections. The best thing to do for a film like FIRST FLIGHT is to go the film festival route, to create exposure - www.filmfestivals.com - It will tell you about every single film festival out there the huge to the most obscure, and information on how to submit your film. For something like Cannes, you will need a video submitted to them by mid-March 2006. Spend some time going through the websites. Just so you can plan ahead. You can seriously have First Flight playing at a festival almost every single week of the next year if you work it right.
NEWS FLASH -- 28 Oct 2005 -- Pictured here are Khun Toa the Financial Controller at Imagimax and Khun Ravit in front of the computer screen where Ravit is designing the CG aircraft that will go into the aerial shots. Today's meeting with Ravit, House and Tom at Avanti concerned more details about shooting the C.G. Aerials. RS has committed the money to continue with the Aerial C.G. scenes for the movie. This is great news. Khun
Surachai Chetchotisak
(the head of RS) has committed to go ahead and finish First Flight. Meanwhile, Charlie Reff creff@tartanfilmsusa.com is very keen to see FIRST FLIGHT at the Cannes Film Festival. Charlie's company buys international films around the world and promotes them for sale and distribution in USA and around the world. WE NOW NEED TO FINISH FIRST FLIGHT before the
CANNES FILM FESTIVAL in May 2006.
NEWS FLASH -- 26 Oct 2005 -- Today Khun House and Khun Ravit called to confirm the aerial mission to finish the background aerials. This all sounds very good. The key thing is for the Computer Graphic Aerials to be finished in about 4 months, so the film can be ready for CANNES FILM FESTIVAL and then ready to premier in Thailand for the opening and FIRST COMMERCIAL FLIGHT into the NEW BANGKOK AIRPORT....
NEWS FLASH -- 19 Oct 2005 -- Today Khun House called Tom and told him that they will be ready to shoot the background aerials for the Computer Graphic scenes on 05nov05. This is very important, because this means they will be spending money to move the film closer to completion. It is a very good sign. The next thing will be to hear when Khun Thanit will be doing the reshoot of the Buffalo charge. The AERIAL CINEMATOGRAPHER Bob Poole was recently in Thailand
on a documentary film shoot and stopped by Imagimax Studio to have a look at the progress on FIRST FLIGHT. Mr. Bob says
that there is a lot of international interest in FIRST FLIGHT, and he was very impressed with the Computer Graphic dogfight scene
that Imagimax has been working on. Bob was the genius behind the aerials in National Geographic's "Flight Over Africa," and he has pioneered a lot of special aerial cinematography techniques all over the world
- www.poolefilms.com.
NEWS FLASH -- 26 Sep 2005 -- Today Khun Thanit was at the meeting, and it was very exciting to see him. He is the director of the film First Flight, but we don't get to see him very often. It was a special surprise for us. He has assured all of us that he will be re-shooting the scenes with the buffalo charge in the MIDDLE OF OCTOBER up in Suphanburi. Let's see if this will materialize. Khun Ravit has been working very hard on making the CG models of the French and German aircraft used in the battle scenes. We went to look at the RS HDD Camera which costs 6 million Baht (US$150,000), and we will use this to get the background aerials for a few of the CG flying scenes in OCTOBER. Khun Piya's friend who had the previous wing mount apparently is now in jail, so maybe we can't find that wing mount. Khun Amy announced at the meeting that she is now in charge of the movie. This means that this movie has
had a total of two different directors and four different producers in the making, but Amy is the first woman to take command. Let's see if she can accomplish what no one else has been able to do and FINISH the movie FIRST FLIGHT. This film has been on a great journey, and now that the first large aircraft have made successful test landings at Suvarnabhumi International Airport on 29 Sep 2005, we hope she can get everything going so that the film will be finished in time for the Grand Opening of the New Airport on 12 Jun 2006 to celebrate the 5th cycle (60th year) anniversary of the King's coronation. Please send your emails to Khun Amy to encourage her.
NEWS FLASH -- 21 Sep 2005 --
Khun Rashane has quit from RS FILM, so he is not longer involved with First Flight. Now Khun Amy is working on the film. They had a meeting last week, and it seems that Khun Thanit has to reshoot the Buffalo Charge scenes, because they cannot remove the blue man who was sitting on the back of the buffalo. Khun Ravit has been making great progress on the computer graphic sequences. He is building 3D models for the Nieuport and German WWI aircraft. We need to shoot the background aerials next month, if we are going to meet the deadline and have the film finished by the opening of the new Bangkok Airport in June 2006 !!!!!!!!!!!!!!!!!!!